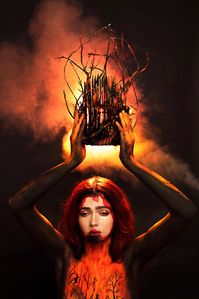 February 2020
I'm disturbed by what's happening to our planet and how climate is changing: fires everywhere, earthquakes, flooding, no more winter in those countries where it has to be a proper one etc.
During January and February Australia suffered a lot starting from enormous fires and ending with flooding. We witnessed incredible extremes and losses. After months of firefighting the RFS says the rain helped firefighters extinguish more than 30 fires, some of which had been burning for months.
Cannot be happier knowing that finally all bush and grass fires contained by RFS. And so relieved that I've been helpful and together with Bluethumb Gallery and Art on Fire Auction we've raised over $44k for those who were in need. It means a lot to me as an artist and a human.
Together with extremely creative and talented HMUA from Nepal and gorgeous Canadian model we created an artistic series of photos as a reflection and a reminder of what we've witnessed in Feb 2020.
'Line of Fire' is a story of how Australia had to put the crown of fire on, suffered from loses being on a line of fire and eventually plunged into water during heavy rainstorms. It's not the end, it's just an episode of the consequences we've done to our home.
What would you do if it all came back to you?